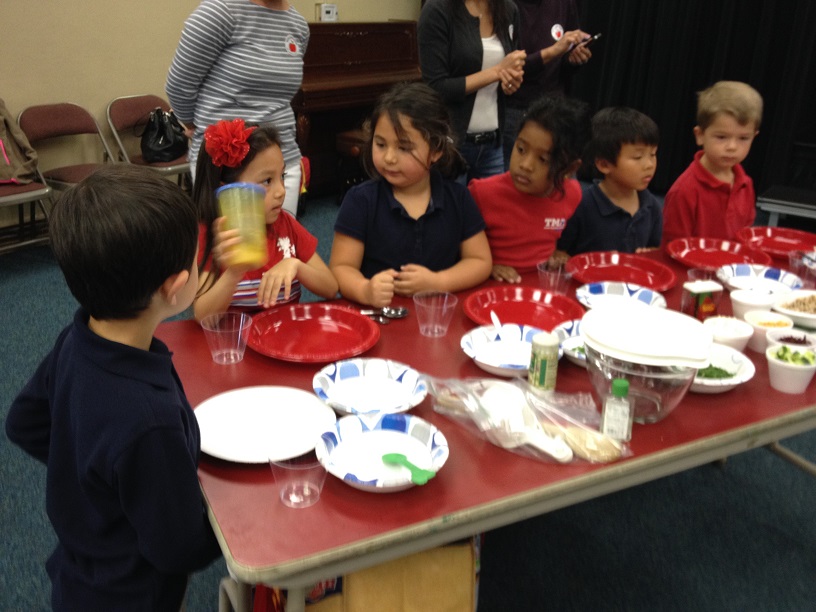 Kindergartener Emma Johnson shakes citrus-vinaigrette with Andrew Dove, Hannah Speizer, Rina Champ, Max Cheng and Alex Euhus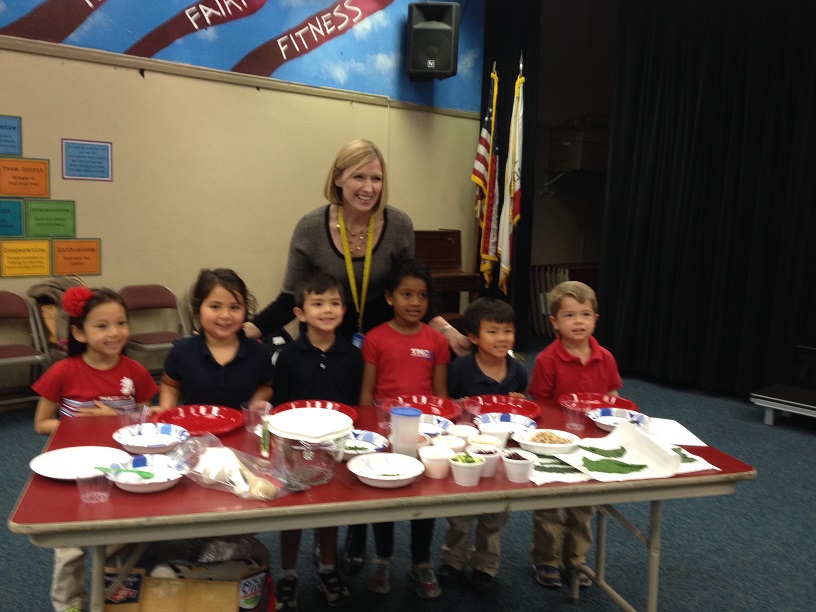 TMA Prinicipal Wendy Hudson with Kindergartners (left-to-right) Emma Johnson, Hannah Speizer, Andrew Dove, Rina Champ, Max Cheng and Alex Euhus
The TMA multipurpose room was transformed into kitchen stadium back in March, when TMA students participated in a cooking demo led by Chef Linda of Slow Food Orange County. TMA Principal and sous chef for the day, Wendy Hudson, helped Chef Linda teach the students how to prepare a tasty, wholesome snack using many fresh vegetables grown by students in our garden including kale and lettuce leaves, green onions, beets and leek. Students took turns measuring and mixing the ingredients in this produce-packed, no-cook snack, which could also be served as a light meal. Students enjoyed "rolling" their own Wrap ups just as much as they enjoyed eating them!
Garden Wrap Ups Recipe
Produce to Prep (can be done in advance)
8 larges green kale or lettuce leaves (Romaine leaves for are best, separate, wash and dry)
2 medium carrots, julienned 2 small or 1 medium beet, shredded (raw, not cooked)
2 small Persian cumbers thinly sliced or 1/2 Hothouse/English cucumber, diced 1 leek, white only, slice lengthwise, then thinly slice and soak in water, rinse and drain 1/2 cup dried cranberries
1/4 lb. feta cheese, crumbled
Filling
3/4 cups cooked rice or quinoa 1 bunch of parsley, chopped
1 small handful chives, chopped
1 cups hummus (7 or 8ozl carton)
Citrus Vinaigrette
1/2 teaspoon of Dijon mustard 1 orange, juiced (or 1/2 cup orange juice)
1/2 cup olive oil Salt and pepper to taste
Cook the rice or grain according to the package directions and let cool. Meanwhile, prepare the fresh vegetables and keep in separate bowls or containers. Make the filling by combining rice/quinoa, humus, parsley and chives in a bowl. Make the dressing by juicing the oranges and combining in an 8oz jar with Dijon mustard, salt and pepper. Shake, then add olive oil and shake again. Mix the dressing into the rice/quinoa and humus mixture. Stir until ingredients are well combined.
Making the wrap
Spread the filling in the middle of the lettuce leaf, sprinkle with a small spoonful of each vegetable, cheese and cranberries. Fold or roll and enjoy!