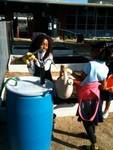 Watering plants can be a chore but not in the TMA Garden. Recently, we added small cisterns throughout the garden.
Made from donated plastic barrels, these overflow cisterns pull recycled rain water from the primary 500-gallon cistern via a hose. The kids can conveniently pump water from the overflow cisterns to hand water nearby beds.
Here's what some of Miss DeClark's third-grade students think of the cisterns:
Crystal: "Pumping water is fun, especially from our very own TMA cistern. Even watering plants isn't as fun as pumping water!"
Mounika: "I think pumping water was fun because it was very easy. This activity is also useful because the plants get watered with recycled water instead of reservoir water. I loved using the cistern and helping our plants grow!"
The cisterns were created by a couple of our amazing TMA dads, John O'Brien and Barry Einck. Thank you for coming up with this great idea.