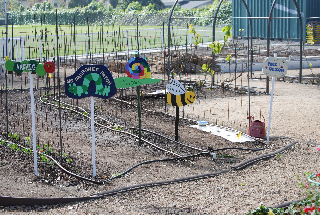 You're always trying to get your kids to eat their fruits and vegetables and now they're growing them in the TMA garden. Here's a breakdown of the crops by grade.
Kindergarten: Radishes and lettuce ( beds 7, 9 and 11)
First grade: Lettuce (beds 6, 8, 10, 12)
Second grade: Peas on a trellis that is a maze (in ground bed B)
Third grade: Onions, chives and strawberries (beds 1, 3, 5, A)
Fourth grade: Carrots (beds 2, 4, 13, 14 and part of in ground bed E)
Fifth grade: Herbs and grapes (bed C and arbors)
The beds are staggered so that if one is infested with bugs they don't jump to the next planter. Another way we ward off pests is by placing the onion bed is in between the lettuce beds.
A few weeks ago the third-grade class brought home their chives in a cup. So we thought we'd include a chive recipe for you to try.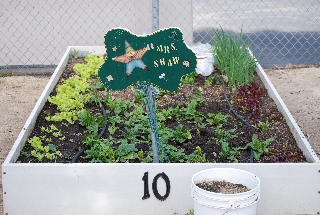 Creamy Chive and Tomato Dip
1 package (8-ounce) reduced-fat cream cheese (Neufchâtel)
1/2 cup reduced-fat or fat-free sour cream
1/4 cup fat-free (skim) milk
1/4 cup drained sun-dried tomatoes
2 tablespoon snipped fresh chives
1/4 teaspoon salt
1/4 teaspoon freshly ground black pepper
Directions In a food processor with knife blade attached, pulse cream cheese, sour cream, milk, tomatoes, chives, salt, and black pepper until almost smooth. Serve with sliced fresh vegetables or baked potato chips.