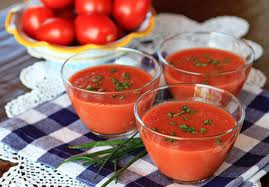 The Can U Dig It? Team wants to thank Whole Foods Market, Tustin and Duncan and Michelle Millar of Michelle's Naturally for participating at BTSN.
Gerrie Adams, the healthy eating specialist at Whole Foods Market, Tustin, showcased our garden's tomatoes and peppers in a delicious watermelon/tomato gazpacho. Please check out the recipe from last week's post. You won't be disappointed with this refreshing soup.
Per a grant we won through Whole Kids Foundation to introduce nutrition-based training, Whole Foods Market, Tustin will be giving more demostrations in our garden this school year. Be on the look out for upcoming dates.
The Millars generously donated a variety of cookies that were distributed as free samples at BTSN. Many families learned how scrumptious cookies can be when made with wholesome ingredients. The Millars also donate cookies to our weekly garden sale, so stop by and give them a try. They're a huge hit with the kids.
Also at BTSN, our produce sales team displayed a beautiful array of produce and items made with ingredients from the garden. We featured a colorful medley of tomatoes, red hot chili peppers and cool frozen grapes to name just a few. All sales benefit PTO programs, which in turn, benefit our children's overall TMA experience.
If you'd like to join the fun, dedicated team that sells our garden's bounty, why not lend a hand on Thursdays after school? For details, please contact Jennifer Whyte at (714) 486-2647.