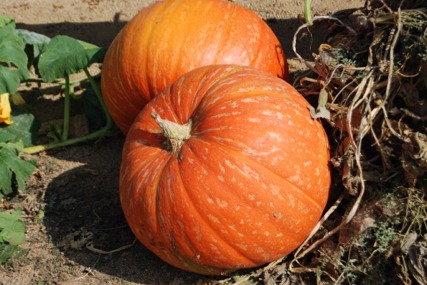 This fall, show your kids that pumpkins aren't just for carving. Here are some nutritious and yummy recipes you can share with your family.
Naomi's Pumpkin Soup
Ingredients
* 6 cups chicken broth * 1 cup chopped carrots * 1 or 2 stalks of celery * 1/4-1/2 white onion, chopped * 2 cloves garlic, chopped * 2 fresh thyme stalks, chopped * 1 teaspoon fresh parsley, chopped salt and pepper to taste * 1/2 cup heavy whipping cream * 2 cups of pumpkin puree Nutmeg to taste * 1 teaspoon chopped oregano, optional * 1 teaspoon chopped basil, optional
Directions
Cook carrots, celery and onion in about 2 cups of chicken broth. When veggies are soft, puree them with garlic, thyme and parsley.
Add carrot puree to the remaining 4 cups of chicken broth. Add 2 cups of pumpkin puree and heat to a boil, then reduce heat, add heavy cream, salt and pepper, nutmeg and optional oregano and basil. Heat thoroughly. Serve hot.
More Recipes to Try With Your Kids

Pumpkin Bread
(courtesy of www.theshoeboxkitchen.com)
Ingredients
* 3 1/2 cups all-purpose flour * 2 teaspoons baking powder * 1 teaspoon baking soda * 1 teaspoon salt * 1 tablespoon ground cinnamon * 1 tablespoon ground nutmeg * 2 1/2 cups sugar (we used turbinado)
* 4 large eggs * 1 cup canola oil (we used vegetable oil)
* One 15-ounce can pumpkin puree (we used 15 ounces of fresh pumpkin puree)
* 1/2 cup water (we used 1/4 cup, because fresh puree contains more water than canned–in fact, we probably could have left the water out altogether)
* 1 teaspoon pure vanilla extract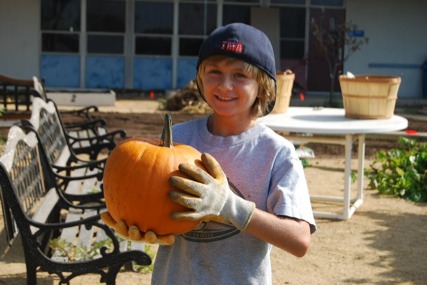 Directions
Preheat your oven to 350 degrees. Grease and lightly flour two 9x5x3″ loaf pans.
Sift together the flour, baking powder, baking soda, salt, cinnamon and nutmeg into a large bowl and set aside. Whisk together the sugar, eggs and oil in a separate bowl until well blended. Then add the pumpkin puree, water and vanilla. Mix well. Gradually fold the dry ingredients into the wet, just enough to moisten and blend all the ingredients. Do not overmix.
Pour the batter evenly into the two prepared loaf pans. Bake for about an hour or until a toothpick inserted in the center comes out clean. They could take up to 70-80 minutes to fully cook (depending on your oven).
Let the loaves sit for about 15 minutes in the pan. When the edges start to pull away from the pan, the loaf will turn out of the pan pretty easily. Let the loaves cool out of the pan for at least an hour before slicing.
Harvest Pumpkin Tart
Ingredients
* 1 (14 ounce) can sweetened condensed milk * 1 1/4 cups pumpkin puree * 2 tablespoons brown sugar * 1 egg * 1/4 teaspoon ground cinnamon * 1/4 teaspoon ground nutmeg * 24 (3 inch) unbaked tart shells
Directions
1. Preheat oven to 375 degrees.
2. Whisk together sweetened condensed milk, pumpkin, brown sugar, egg, cinnamon and nutmeg in medium bowl until smooth. Pour evenly into tart shells.
3. Bake for 18 minutes or until center is just set and pastry is golden.
4.Cool and garnish as desired. Stored leftovers covered in refrigerator.
Variations
* Add extra pumpkin, up to 1/3 cup.
* Use store-bought pie pastry, cut circles and mold into muffin tins. (No need to grease the tins.)
* Based on taste, add extra cinnamon or add cloves, all spice or pumpkin spice.
Easy Tomato Soup Spice Cake
Ingredients
* 1 (18.25 ounce) package spice cake mix * 1 (10.75 ounce) can condensed tomato soup * 1/2 cup water * 2 eggs
Directions
1. Preheat oven to 350 degrees. Grease and lightly flour two 8″ or 9″ round cake pans.
2. Mix cake mix, soup, water and eggs according to package directions. Pour into prepared pans.
3. Bake 25 minutes or until done.
4. Cool on wire racks 10 minutes. Remove from pans and cool completely.
5. Fill and frost with your favorite cream cheese frosting. (optional)
Variation
I used a bundt pan and followed the baking time on the cake mix box. A simple dusting of powdered sugar is a great way to "dress" this moist cake.