Thank you to each and every parent, teacher and child who makes our amazing garden possible. Enjoy reading details about how and why our garden came into existence.
OC REGISTER LIFE
Nature as teacher
BY JULIE BAWDEN-DAVIS / CONTRIBUTING WRITER Published: March 7, 2014 Updated: 8:46 a.m.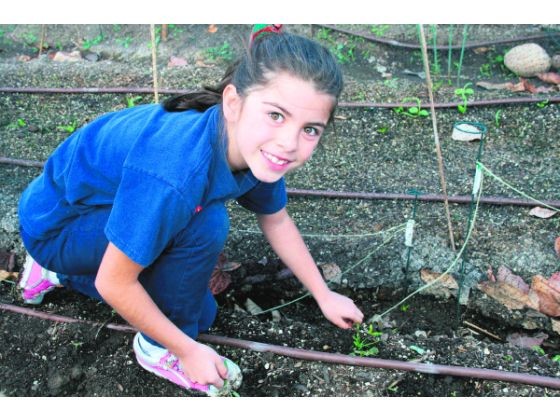 When Ava Mora pulled a purple and orange carrot out of Tustin Memorial Academy Elementary School's garden recently and viewed the results of the seeds she and other students planted weeks before, the second-grader couldn't wait to takea bite.
"We all peeled our carrots with peelers like grown-ups and then we ate them,"Mora says. "My carrot was so fresh and tasty – especially with a little bit of dirt on it. If other kids want to grow their own carrots, there's something they need to understand. Plants are like your friends. If you are nice to them and take care of them, they'll grow and make you food, and without plants like trees turning carbon dioxide into oxygen, we wouldn't be alive."
While these are welcome words for the 150 parents involved in the TMA Organic Garden and Nature Center, which broke ground in 2008 and is the most extensive school garden in Orange County – involving all 700 of the school's students – it's the reactions from older kids that really make those parents smile.
Like Jonas Weissberg, who graduated from the school's K-5th garden program in 2013. He was a garden ambassador last year, giving tours to school visitors. "I liked being a guide and sharing with everyone how gardening helps nature and how composting is so important, because you use it to create fertilizer to feed the soil," says the sixth-grader, who now attends middle school. "Gardening organically also makes our ecosystems healthier, and foods grown without pesticides taste much better and are better for you. Worm composting is also really fun."
Roxanne Maietta Weinberg is currently a fifth-grade garden ambassador. "I like showing visitors all of the great things about the school garden, like the worm bins and the butterfly garden, where you can often see chrysalises hidden so no birds get to them," she says. "We also have huge water cisterns that collect rainwater. They are connected to a pipeline on the roof that is hooked to the gutters and drains the water into the cisterns. There are also underground aquifers so that any runoff water sinks into the ground instead of running off into the street."
That fifth-and sixth-graders would know more about storm water runoff,composting and the nutritional impact of homegrown organic produce than the average adult was the goal of the school garden's creator and co-chair, Marci Maietta Weinberg, who with the help of other parents and a University of California Cooperative Extension (UCCE) Master Gardener, started what has proven to be a sustainable school garden model.
"My hope was for children to walk away feeling a responsibility as stewards of the planet and with a strong understanding of how what they eat affects themselves and our world," Weinberg says.
The goal of the TMA garden program is to reinforce skills and math and science lessons. "Our garden is one of the reasons parents choose TMA over other Tustin Unified elementary schools," Weinberg says. "For the past five years, TMA's math and science scores have steadily increased. We believe garden programs are part ofthe reason why."
The methods used by the TMA garden dovetail nicely with the Common Core Standards now used in classrooms. TMA first-grade teacher Megan Caporicci formerly taught fourth grade, which is responsible for the school's hot composting."My fourth-grade class would go out and collect temperature data from the compost bins and then input the information in a table format, which taught them math skills in a relevant, hands-on way," Caporicci says.
"I'm a big proponent of real-world learning, and the garden provides a priceless outdoor learning experience," she says. "Just the other day, as I was discussing weather with my first-graders, it began to sprinkle outside, so we went out into the garden to check the rain gauge."
UCCE Master Gardener Teena Spindler regularly consults throughout the county on school gardens and does site visits for schools interested in starting their own gardens. She has been involved in the TMA school garden since its inception.
"The TMA garden is unique because it involves every child in the school," Spindler says. "The well-structured program includes each class having its own planting area. Ownership of their own piece of real estate makes the kids much more likely to be engaged, because they all want their little piece to succeed."
Students participate in seeding, transplanting, harvesting and garden maintenance and composting. Vegetables and fruits are sold at an after-school produce stand on Tuesdays.
Ty Hall is regional manager of Kellogg Garden Products, which regularly donates soil, amendments and organic fertilizer to the garden. "Kellogg's is coming up on 90 years in the horticultural industry, and it's part of our business model to reach and teach the next generation, so we make contributions to select schools that are educating about gardening in a sustainable way," Hall says.
Parent participation
One of the main reasons that the TMA garden program works so well is the high percentage of parent participation. Each classroom has three to four Garden Master parents, who experience twice yearly training by Spindler and fellow Master Gardener Joanne Byrd. These Garden Master parents specialize in one of three areas: planting, maintaining or exploring.
"The system at TMA has not only created a beautiful garden but a beautiful system for engaging parents, teachers and children in the garden in a sustainable way," Spindler says. "This is an amazing model that has the legs to keep on going indefinitely."
Parents often will tie in what the kids are doing and seeing in the garden with what's being learned in the classroom, says Garden Master and planting co-chair Ellen Kinoshita, whose child Samantha is in fifth grade while Cassidy attends third grade at TMA. "The garden provides an excellent extension of the classroom, and the kids love getting in the dirt and examining the worms and insects," she says.
As a planter Garden Master, Kinoshita has kids plant, and they discuss plants' need for water, soil and air, as well as the importance of weeding and maintaining the plants. "We also talk about the food we get in the store and all the work farmers go through to get the plants to grow," she says. "When we start, some of the kids don't even know that carrots grow in the ground."
Growing good eaters
Another major goal is developing healthy eaters. The kids are given Green Bucks when they show engaged, enthusiastic and extra hard-working behavior in the garden. These are used to purchase the healthy items available at the sales on Tuesdays. The Green Bucks program was made possible by a grant from Slow Food Orange County.
The garden also currently is piloting a garden game that involves bringing a plate out to the garden that has been properly proportioned with the amounts of certain types of foods that should be eaten in a meal and playing cards representing foods like greens. The kids look through the garden for items on the cards and then fill their plates with the appropriate cards.
Learning by trial and error
The focus is on learning from experience. "When we do the training, we emphasize to the parents that successes and failures are all learning experiences," Spindler says. "Children are given the opportunity to examine situations and then try to solve any problems as a group. There are infinite lessons to be learned in the garden setting."
Mora, the second-grader who enjoyed her first homegrown carrot, recently solved such a problem with her class.
"We had to replant our carrot patch because something was eating our first batch,and we finally figured out it was rabbits," she says. "I was happy that the bunnies were getting food, but I was also sad, because there wasn't any left for us. Then westarted putting netting around the carrots, and that really helped."